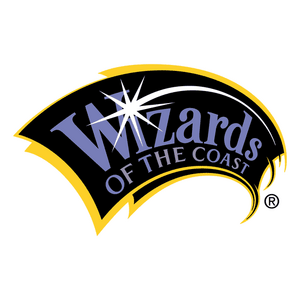 Wizards of the Coast LLC is an American company that produces several collectible card games. Their headquarters is in Renton, Washington, USA.
In 1997 they acquired TSR, Inc. and the rights to the Dungeons & Dragons franchise.
Today, Wizards of the Coast publishes role-playing games, board games, and CCGs. The company has been a subsidiary of Hasbro since 1999.
Publications
[
]
| GAMES | YEARS | #CARDS |
| --- | --- | --- |
| BattleTech TCG | 1996-2001 | |
| C-23 | 1998 | |
| Codename: Kids Next Door TCG | 2005 | |
| Deadlands: Doomtown | 1998-2001 | |
| Duel Masters TCG | 2004-2006 | |
| Dune | 1997-1998 | |
| Football Champions | 2001 | |
| G.I. Joe TCG | 2004-2005 | |
| Harry Potter TCG | 2001-2002 | |
| Hecatomb | 2005-2006 | |
| Hercules: The Legendary Journeys TCG | 1998 | |
| Kaijudo TCG | 2012-present | |
| Legend of the Five Rings | 1997-2000 | |
| Looney Tunes TCG | 2000 | |
| Magic: The Gathering | 1993-present | |
| MapleStory iTCG | 2007 | |
| MLB Showdown | 2000-2005 | |
| NBA Showdown | 2001 | |
| Neopets TCG | 2003-2011 | |
| Netrunner | 1996-1999 | |
| NFL Showdown | 2001-2003 | |
| Pokémon TCG | 1999-2003 | 3,486 |
| Star Sisterz | 2004 | |
| Star Wars TCG | 2002-2005 | 2,613 |
| The Eye of Judgment | 2007 | |
| The Simpsons TCG | 2003 | |
| Vampire: The Eternal Struggle | 1994-2010 | |
| WCW Nitro TCG | 2000 | |
| X-Men TCG | 2000 | |
| Xena: Warrior Princess TCG | 1998 | |
| Xiaolin Showdown TCG | 2005 | |
| TOTAL NUMBER OF CARDS: | | ? |
| GAMES | YEARS | #CARDS | GAME TYPE |
| --- | --- | --- | --- |
| Alpha Blitz | 1998 | | NCCGs |
| Dilbert: Corporate Shuttle | 1997 | | NCCGs |
| Dungeon Command | 2012-2013 | | NCCGs |
| Earthquake | 1998 | | NCCGs |
| Go Wild! | 1998 | | NCCGs |
| Guillotine | 1998 | | NCCGs |
| Instinct | 1998 | | NCCGs |
| Mad Scientist | 2000 | | NCCGs |
| Pivot | 1998 | | NCCGs |
| The Great Dalmuti | 1995 | | NCCGs |
| Three-Dragon Ante | 2005-2010 | | NCCGs |
| Twitch | 1998 | | NCCGs |
| TOTAL NUMBER OF CARDS: | | ? | |
External links
[
]