Second Anthology

Box
About
Game/Set:
Star Trek CCG 1st Edition

Expansion:

Second Anthology

Publisher:

Country:

USA

Language:

English

Cards Total:

6

Second Anthology is the 21st expansion of Star Trek CCG 1st Edition. It is published by Decipher on 15 March 2000. The set consists of 6 new promo cards.
Each buff, sturdy, 800 card Second Anthology box contains 6 new black bordered promo cards (not included in any previous or future expansion), 2 Starter Deck II reprint boxes plus 2 boosters each from First Contact, Deep Space Nine and The Dominion. Also included is an insert list of items found in the box and a complete card list booklet (from Premiere to Second Anthology)..
Type Breakdown
Edit
6 Personnel (1 Bajoran, 1 Cardassian, 1 Dominion, 2 Federation, 1 Klingon and 1 Romulan)
NOTE: There is 1 Dual Affiliations card, thus the total is higher than the amount of a card type.
Rarity Breakdown
Edit
Card List
Edit
Box contents
Edit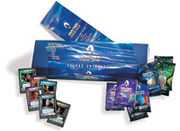 External Links
Edit
Community content is available under
CC-BY-SA
unless otherwise noted.